Union Army Uniforms and Insignia of the Civil War
The Shoulder Straps of Amos H. White, 5th New York Cavalry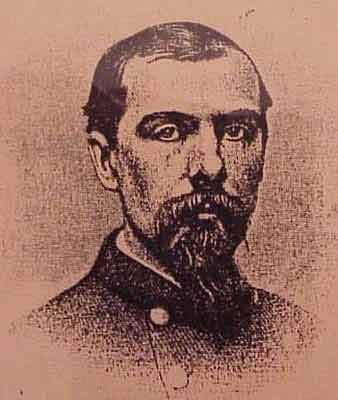 Amos H. Davis
Amos H. Davis enrolled in New York City in 1861. He served as first lieutenant of company D and received a steady series of promotions, becoming colonel of the 5th New York on November 14, 1864. He was wounded at Hanover, Pennsylvania on the eve of the battle of Gettysburg and again on June 1, 1864 at Ashland, Virginia (north of Richmond on the Fredericksburg and Richmond Railroad line). He was also twice captured by Confederates at Front Royal in 1862 and Ashland in 1864. At Ashland Station Davis' command was struck by an overwhelming force of Confederate cavalry. He was exchanged and returned to service to muster out with the regiment as its last colonel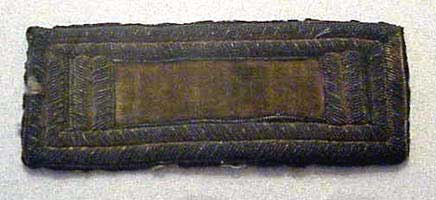 First Lieutenant's Shoulder Strap
Davis' first lieutenant shoulder strap is a double bordered embroidered strap with a yellow velvet field. The gold first lieutantent's bars are also doubled and set such that they nearly abutt the border. Some might interpret this as a captain's insignia, but it was typical to double bars on double bordered straps.

Colonel's Shoulder Strap
Davis' colonel strap has a regulation embroidered border one-quarter inch in size. The eagle is executed in a manner very typical of Civil War period shoulder straps with slooping wings made from cable embroidery. Like the majority of Civil War colonel's straps the wings are larger than the two inches stated in regulations. The field is yellow velvet.
MORE: Stylistic Features of Civil War Colonel's Shoulder Straps
Illustration List
Index to Links
Back to Regulations
Home Page