Union Army Uniforms and Insignia of the Civil War
Chaplain's Uniforms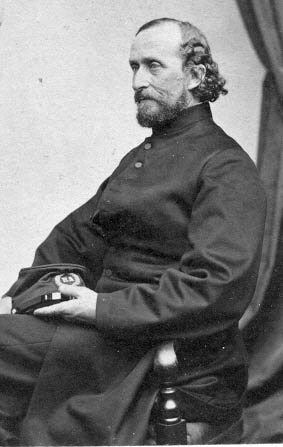 Chaplain Andrew L. Stone
45th Massachusetts Infantry (Cadet Regiment)
(Courtesy: Jay Graybeal)
Stone is wearing a typical chaplain's uniform as prescribed by General Orders 102 of November 25,1861. His forage cap has a U.S. wreath, which was allowed by General Orders 247 of August 25, 1864.
The 45th Massachusetts Infantry, nicknamed the Cadet Regiment, was a unit of the Massachusetts militia that was called to federal service September-October 1862 and mustered out July 8, 1863. It served with the Department of North Carolina and did suffer 19 combat deaths in operations there.
Andrew Leete Stone was born 25 May, 25, 1815 in Oxford, New Haven Co., Connecticut. In 1837 he graduated from Yale and studied at the Union Theological Seminary in New York. Stone became the pastor of Park Street Church, a congreation in Boston with strong abolitionist views. Important figures in the movement, such as William Lloyd Garrison and Henry Ward Beecher, spoke there often. At the time of his muster into federal service Andrew Stone was 46 years old and married. In 1866 he accepted the position at the First Congregational Church in San Francisco. He died San Francisco, California on January 16, 1892.
MORE: Chaplain Quinn wearing shoulder straps
Staff Officer's Forage Cap (Kepi)
Illustration List
Index to Links
Back to Regulations
Home Page