Union Army Uniforms and Insignia of the Civil War
Generals' Uniforms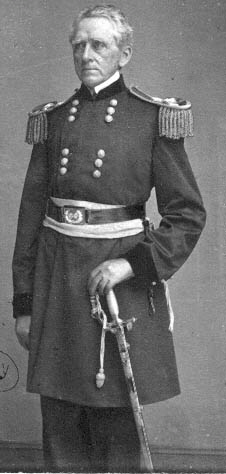 Major General John A. Dix 1798-1879
General Dix wears a regulation frock coat with generals' epaulettes. The half-inch diameter and three and one-half length of the bullion fringe is evident. His buttons would be the general staff type and are grouped by threes and a general officer's sword and buff sash hang at his side. The sword knot has a general's acorn end. The dark velvet collar and cuffs are characteristic of generals' uniforms. The trousers are the same color as the frock uniform coat and do not have any kind of stripe down the seam. During the Civil War period the widest trouser stripes are found on non-commissioned officers trousers. Company and field grade officers (except ordnance) had a thin stripe and general and ordnance officers no stripe at all.
John Adams Dix was born July 24, 1798 in New Hampshire. At the tender age of 14 he was an ensign in the 14thU.S. Infantry and was at Lundy Lane under Winfield Scott during the War of 1812. He remained with the Army and rose to the rank of Captain, but resigned his commission on December 31, 1828. After leaving the Army he settled in New York, studied law, was a businessman, railroad executive, Democratic politician and was active in the New York State militia.
Dix was catapulted to national stature while serving as Secretary of the Treasury in the Buchanan administration. While others were indecisive, Dix ordered Treasury officials in New Orleans to resist by force any effort to remove the American flag from treasury buildings. Lincoln's Republican administration recognized Dix by appointing him the first Major General of Volunteers, but Dix was considered too old to take the field. He commanded the Department of Maryland during the early days of the war and aggressive prevented the state from leaving the union. He was later appointed to Commander of Department of Pennsylvania, the Middle Military Department, Department of Virginia, and lastly in July 1863 the huge Department of the East. While in command of the Department of the East he distinguished himself in suppressing the Draft Riots in New York City.
Dix resigned his commission on November 30, 1865. He remained active in public service as minister to France and Governor of New York. He died in New York City on April 21, 1879.
Illustration List
Index to Links
Back to Regulations
Home Page