Union Army Uniforms and Insignia of the Civil War
Surgeons' Uniforms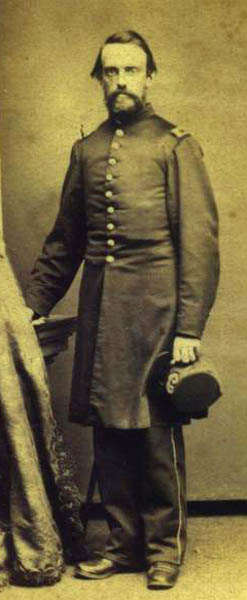 George Francis Thomson (1833-1909)
Assistant Surgeon, 38th Massachusetts Infantry
Dr. Thomson is wearing a single-breasted 9-button frock coat. The buttons would be general staff type buttons, which are regulation for a surgeon. His shoulder straps are those of a staff first lieutenant, the typical grade of an assistant surgeon. Their fields should be the dark blue of a staff officer, although a rare member of the medical department may have worn green. His forage cap has a staff wreath on the front, but its detail is not well shown. His trousers should be dark blue with a thin gold cord. When he worn a sash it was a unique green color that was only worn by medical officers.
George Francis Thomson was born in Belchertown, Hampshire Co., Massachusetts on January 9, 1833. His father, Horatio Thomson, was also a physician. He was commissioned as an assistant surgeon in the 38th Massachusetts Infantry Regiment on August 16, 1862. A regiment was allowed two medical officers, a surgeon with the grade of major and an assistant surgeon with the grade of first lieutenant. His regiment was sent to Baltimore, Maryland where Thomson was detailed to work in Steuart's Mansion General Hospital. On November 10, 1862 his regiment was embarked on the steamer Baltic and sent to Ship Island, Mississippi and then to New Orleans, where it served under the infamous General Benjamin Franklin Butler. The unit was involved in operations in Louisiana and the Port Hudson campaign. Dr. Thomson was detailed to work at the General Hospital in Baton Rouge and at St. James Hospital in New Orleans.
While in Louisiana in March 1863, he acquired a case of malaria and also developed a diarrheal illness, both problems common among soldiers in the Deep South. On October 26, 1864 he was discharged from the 38th Massachusetts to accept a commission as Surgeon of the 11th Massachusetts Infantry Regiment. He was finally mustered out of the service on June 27, 1865. Dr. Thomson returned home to practice medicine and raise a family. He died in Belchertown on December 23, 1909.
Thanks to Doris Dickinson, Archivist, Stone House Museum, Belchertown Historical Association for providing background material on Dr. Thomson.
More: Discussion of Unique Medical Staff Insignia
Surgeon Robert Murray wearing Frock Coat
Surgeon David O. McCord with MS hat wreath
Illustration List
Index to Links
Home Page